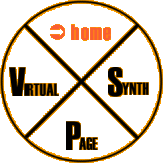 Reason

Reason is the latest offering from Propellerheads, who brought us Rebirth - one of the first virtual synths which was intended to create audio that was a 100% replica of a physical synth. I was really expecting something amazing, some kind of virtual modular synth which could compete against Reaktor.

Unfortunately this was not while I got. Reason is amazing, but in an entirely different way. Instead of building a modular synth, they have built a modular studio, which has some synths in the package. You construct a rack featuring all the equipment you want to use, you then flip the rack over and plug it all in. Some of the modules included are a subtractive synthesis analog synth, a sampler, a mixing desk, a loop player, a reverb, chorus, compressor, matrix sequencer, etc. A neat feature is that you can feed Rebirth in. There is then a primitive sequencer that you can use to put all this together and record all your knob twiddling. You are limited to these modules - it will not take VST or DXi modules (quite a major omission). With ASIO and DirectX support (as expected) the lag is very low.

So essentially what Reason does, is take all the software packages that you would use to create a virtual studio on your PC and put them all into one. There is good and bad about this. You lose a lot of flexibility and none of the modules they provide are best of breed. It's not suitable for professionals. However if you're on a budget I can't imagine how you can get as much for the price. It is possible (though difficult) to integrate it with a sequencer, which fills in the biggest gaps in its functionality.

There is one thing that is incredible about Reason .... the user interface. The visual's are absolutely gorgeous, with lots of little details - for example when you turn the rack over to plug in the wires, they swing for a second and LED screens have an authentic blur. There is a downside to this - the spacing of knobs on rack gear may be fine if you have a few 4ft racks, but if when you have to show it all on a monitor there really isnt enough room. Not all the width of the monitor is used, but a rack may be as many as 10 'pages' long.

To summarise it's a great piece of software for the price, but doesn't really have a place in a pro or even semi-pro studio. William K from Dash Synthesis sums it up very well by saying 'I still think Reaktor can do much more for real pro-users. For me Reason is more for teenagers doing some TechnoTrashs!'.