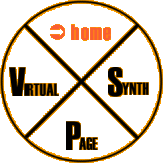 AudioMulch

AudioMulch is a modular synthesizer, but takes it from a different angle than other modular software reviewed here. Rather than imitating an analogue modular synthesizer, it provides an array of 'contraptions' (modules) and allows them to be hooked up together. A nice feature is that VST effects can also be used as modules, greatly increasing the power of this software. It appears to be more oriented to be used to create 'soundscapes', ie aural textures, rather than as a straightforward modular synthesizer.

The screen is split into two panes - one which contains a graphical view of the modules linked together and another which contains all the parameters for every module. More unusual modules extend the worth of the program for soundscape creation. Some of the more notable modules are listed below:
Test tone/noise
Shepard/risset tone generators
Bassline/additive synths
Sample/loop Players
Arpeggiator
Reverb
Flanger
Delay
Digital grunge
Pulsar comb
Waveshaper
Ring modulator
Granular/shephard/risset/resonant comb filters
AudioMulch has quite a solid feel and a nice sound - not very analogue and not really suitable for thumping basslines, but great for swirling textures and other complex sounds. It is shareware with a registration fee of $50.